TALLULAH MOONBEAM WORKFORCE #1
Research-Project on invitation of the "Norwegian-Sawmill-Museum, Namsos", to develop the story for a new site-specific performance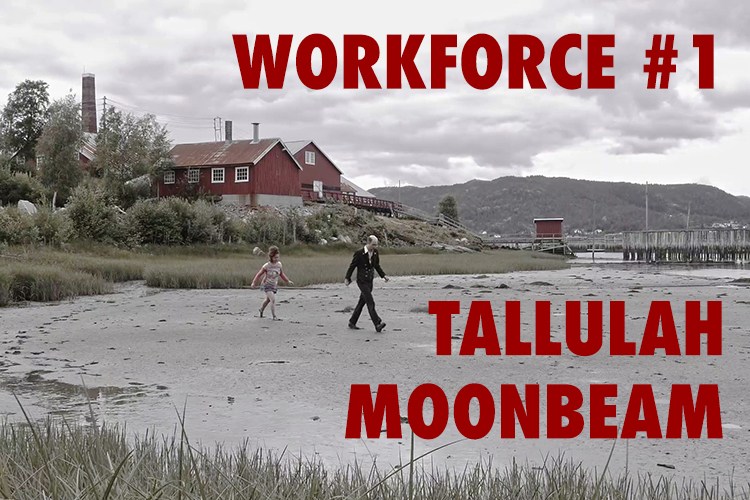 About
---
The body of a young girl is found in the marshes in Belarus. Next to her in the swamp is an equally well preserved corpse of a cow. The bodies are taken back to the science institute and forgotten in the basement. Slowly the spirit of the girl and the cow take over the room. Plants and memories grow in and up the walls. Stored electrical equipment (radios, tv, etc.) goes on and off and renders memories from her life. People from her story appear as ghosts in the room which takes on a life of its own.
Laboratory/research Tallulah Moonbeam[resurrected] is a long term project.
We are exploring a series of possibilities to approach and render the multiple aspects of a life story. Tallulah Moonbeam is a fictive character. Her story is based on a merge of different myths. It begins with the end. Tallulah is lured to her death by the man she loves. The betrayal traps her spirit. As she can not transcend, her soul transforms into a ghost. She becomes an irregular, grotesque part of the elements. In our project, she revisits different episodes of her life. The narrative happens in between life and death, between dream and reality. The story of her life and death functions as an underlying fable, where memories, dreams and stories of her family members are put under microscope. Every fragment turns into a story itself, and can be channeled through texts, performances, music compositions, photos and film fragments. The characters are based on archetypes and deities. Hence they are recognizable personas in new structures. The entire project is a laboratory collage, merging myths, archetypes and different artistic expressions, with the involved artist's personal take on the story.
First Impressions
---
Credits
---
Concept & Idea: Sonja Salkowitsch
Costume Design: Jan Liefhold
Place and Space for First Research: Norsk Sagbruksmuseum, Namsos, Norway

Devising Ensemble: (in alphabetical order)
Amanda Babaei Vieira as "Young" Selma
Benita Martins as Alise
Christopher Ramm as Vladimir
Clarissa Heisterkamp as Tallulah
Jan Liefhold as "Hunter"
Lorenz Vetter as Kent
Simon Salem Müller as Varg
Sonja Salkowitsch as "Old" Selma
Tilman Gunz as Sten

Production Leader:
Sonja Salkowitsch with Simon Salem Müller

Technical Production Leader:
Simon Salem Müller

Photography / Videography / Live-Sound:
Simon Salem Müller with Lorenz Vetter

Editing
Simon Salem MüllerSet-Photography
Clarissa Heisterkamp